Paul Ayres
Composer / Performer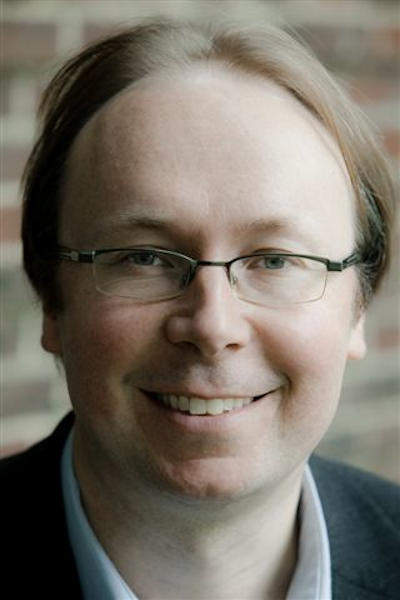 Paul Ayres was born London, and studied music at Oxford University, graduating with a first-class honours degree in Music in 1991. Since then, he has worked freelance as a composer and arranger, choral conductor and musical director, and organist and accompanist.
Paul has received over one hundred commissions from ensembles, organizations and individual musicians. His music has been published by Oxford University Press, Boosey & Hawkes, Hal Leonard, Santa Barbara, Carus-Verlag, Pavane, and others. Works have been awarded or shortlisted for composition prizes in Bulgaria, Canada, Croatia, New Zealand, Poland, Russia, Spain, Switzerland, the UK and the USA. Most of Paul's music involves word-setting, for solo voice, for choir, and for music for theatre productions. He also enjoys "re-composing" classical works (Purcell, Bach, Handel, Fauré) and "classicizing" pop music (jazz and show tunes, The Beatles, Happy Hardcore).
Of his solo CD Handel-Inspired (Priory), The Gramophone wrote: "Ayres is outstanding as composer, arranger, editor and skilful player… this CD is undoubtedly one of the most enjoyable and original recordings I've heard."
Paul is the regular conductor of City Chorus and the London College of Music Chorus (at the University of West London), accompanist of Concordia Voices, and associate accompanist of Crouch End Festival Chorus. He has led many music education workshops for children and played piano for improvised comedy shows and musical theatre productions.
Biographical Details
Works by Paul Ayres
Festival performances of works by Paul Ayres
Festival commissionWorld premiere
LFCCM 2023
LFCCM 2019
LFCCM 2018
LFCCM 2017
LFCCM 2015
LFCCM 2014
LFCCM 2012
LFCCM 2009
LFCCM 2007
LFCCM 2006
LFCCM 2005
LFCCM 2004
LFCCM 2003
LFCCM 2002
Works performed by Paul Ayres
Festival performances by Paul Ayres
World premiere
LFCCM 2009
LFCCM 2007
LFCCM 2006
LFCCM 2002
Recorded performances of works by Paul Ayres
LFCCM 2023
LFCCM 2015