Take part in LFCCM 2021
Churches and church musicians across London are warmly invited to take part in 2021's Festival, scheduled to run from Saturday 8 May to Sunday 16 May next year. It's easy to participate – simply programme contemporary music at any one of your regular services taking place during the Festival period. Taking part in the Festival is a great way of expanding the breadth and variety of repertoire in your music programme, and helps foster the continuing composition of new music for the church.
LFCCM @ Home: Tuesday 12 May – Sunday 17 May
In lieu of live performances this year, recorded performances from the Festival's archives were streamed online as part of a mini "virtual" Festival. Additionally, BBC Radio 3 re-broadcast Choral Evensong from LFCCM 2011 on Wednesday 13 May.
Review LFCCM 2019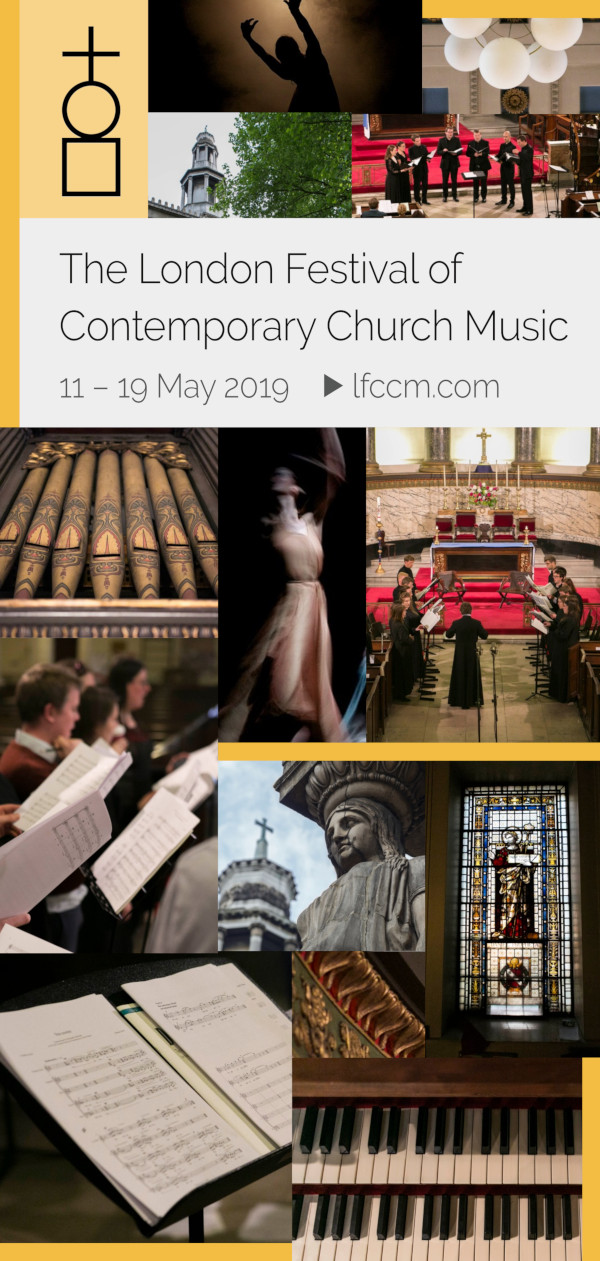 LFCCM 2019's nine-day programme included concerts and recitals in London, outreach events in Oxford, five new commissions for choral evensong, and premiere performances in services across London of new music submitted to our Call for Scores project by composers around the world.
About the Festival
The London Festival of Contemporary Church Music was founded in 2002 with the aim of showcasing contemporary liturgical music in both service and concert. Based at St Pancras Parish Church, London, the LFCCM has grown to include more than sixty events in venues across London and beyond, dozens of composers, hundreds of performers and thousands of audience members, both live and online, showcasing the very best in contemporary liturgical music for choir and organ.