Take part in LFCCM 2022
Churches and church musicians across London are warmly invited to take part in 2022's Festival in May. It's easy to participate – simply programme contemporary music at any one of your regular services taking place during the Festival period. Taking part in the Festival is a great way of expanding the breadth and variety of repertoire in your music programme, and helps foster the continuing composition of new music for the church.
Young composers aged 21 and younger are warmly invited to submit new music to the Festival's Call for Scores project, an open submission process for new church music. Selected submissions will be performed at LFCCM 2022 in May.
Review LFCCM 2021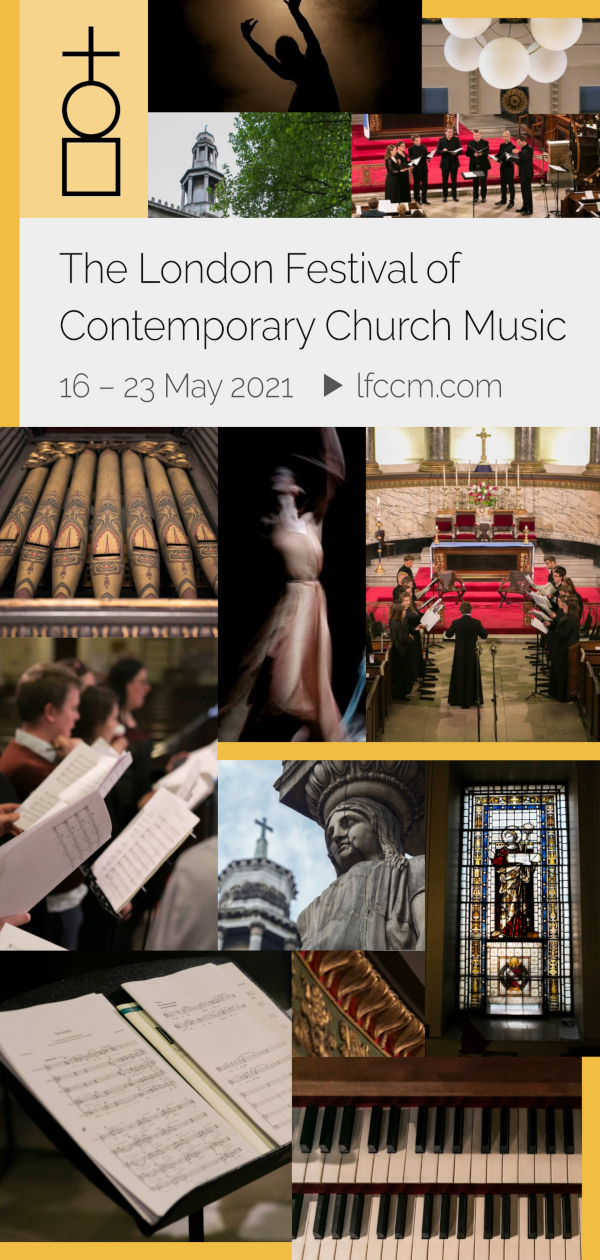 After a hiatus in 2020 due to the global coronavirus pandemic, the Festival returned in 2021 with a week of live events starting on Sunday 16 May: a Gala Concert on Saturday 22 May celebrating the works of Cecilia McDowall, a recital celebrating the 80th Birthday of Sebastian Forbes, a BBC Broadcast of Choral Evensong featuring music by Stevie Wishart, Joanna Marsh, Renāts Cvečkovskis, and Alan Gibbs, and contemporary music in church services across London.
Listen again to LFCCM @ Home
With live performances not possible in 2020 due to the coronavirus pandemic, recorded performances from the Festival's archives were streamed online as part of a mini "virtual" Festival between Tuesday 12 May and Sunday 17 May 2020. Additionally, BBC Radio 3 re-broadcast Choral Evensong from LFCCM 2011 on Wednesday 13 May 2020.
About the Festival
The London Festival of Contemporary Church Music was founded in 2002 with the aim of showcasing contemporary liturgical music in both service and concert. Based at St Pancras Parish Church, London, the LFCCM has grown to include more than sixty events in venues across London and beyond, dozens of composers, hundreds of performers and thousands of audience members, both live and online, showcasing the very best in contemporary liturgical music for choir and organ.