David McGregor
Composer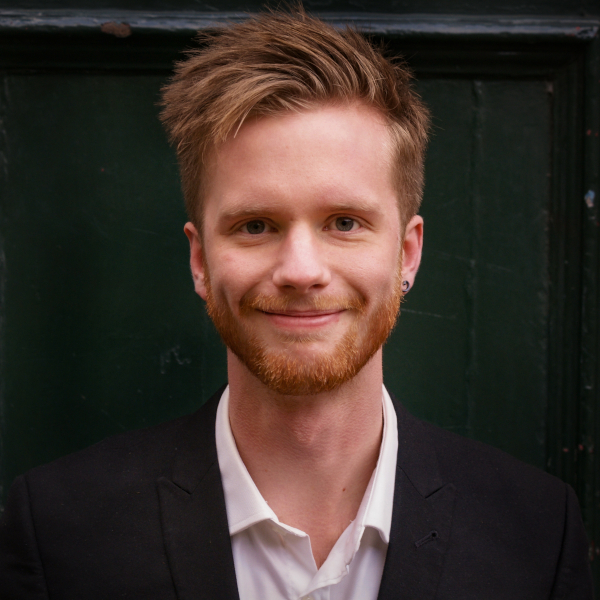 Whether grappling with the composition of new works, playing saxophone in funk outfit "Jabba the Funk" or singing evensong at Chichester Cathedral, David McGregor's life has been profoundly shaped by music. The raucous sounds of his early introduction to music – undertaking piano, saxophone, and clarinet – were held in sharp relief against the peaceful landscape of the Lake District where he was raised. He began composing as a teenager, winning competition classes as a performer and composer in the Mary Wakefield Competition and the South Cumbria Music Festival. Heavily influenced at the time by Russian composers such as Shostakovich, David felt this angst-ridden music offered a window into his teenage psyche.
A graduate of the University of Cambridge, where he earned a first-class degree in Music in 2017, David moved to North Yorkshire begin a choral scholarship at York Minster. Deciding to cultivate his interest in choral composition, he enrolled in an MA at the University of York, graduating with a Distinction in January 2020. He went on to become an Alto Lay Vicar at Chichester Cathedral, singing eight services a week as part of the daily liturgy. He has received commissions from various choirs and close harmony groups – The Choir of All Saints Hove, The New Men (New College, Oxford), and I Anonimi to name a few – and has been recently working on a piece for the Micklegate Singers after having won their composition prize. He is perhaps best known for his gender-bending arrangement of Christmas Classic Baby It's Cold Outside, garnering many thousands of views online.
David now lives in London, where he sings regularly at The Brompton Oratory and St James Spanish Place.
Biographical Details
Works by David McGregor
Missa Brevis pro Baccalarius

with Christopher Batchelor (Composer), Paul Ayres (Composer), Jonathan Wikeley (Composer), Bernard Hughes (Composer), Janet Wheeler (Composer), Joshua Ballance (Composer), Richard Pantcheff (Composer), Ronald Corp (Composer), Sarah Cattley (Composer), Tim Ambler (Composer), Alastair Carey (Editor)
Festival performances of works by David McGregor
Festival commissionCall for Scores submissionWorld premiereLondon premiere
LFCCM 2023
Recorded performances of works by David McGregor
LFCCM 2023