David Beeby
Composer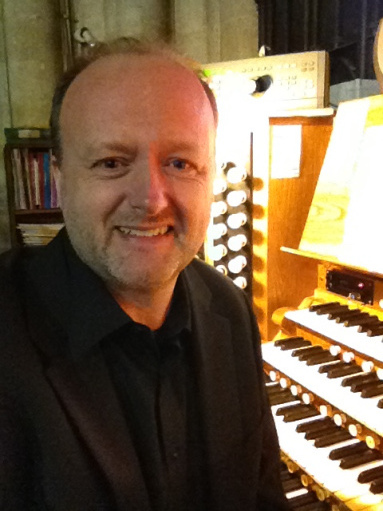 David Beeby is Assistant Organist of Christchurch Priory, where he assists with the organ playing and direction of the Priory Choirs. He holds the highest UK qualifications as an Organist, and is a prize-winning recipient of the RCO's Choral Training Diploma, the FRCO(DipCHM). He also holds a BMus (Hons) degree from London University following undergraduate study at The Royal Academy of Music with David Sanger (Organ Tutor) and Dr Arthur Wills (Academic Tutor).
David has given organ recitals at Portsmouth Cathedral, Christchurch Priory and St Stephen's Church, Bournemouth, and performed Saint-Saëns' Organ Symphony with Westbourne Orchestra in 2017. He has performed Poulenc's Organ Concerto on several occasions, most recently in Winchester Cathedral with Bournemouth University Orchestra in 2015.
David has enjoyed a rewarding career in music education, mainly in the secondary sector. As Head of Music Department at Poole Grammar School for twenty years, he taught generations of students, many of whom have gone onto further education and careers in Music. In addition to his work in the classroom, David led Poole Grammar School musicians in countless performances, both in school and further afield in prestigious venues such as the Lighthouse Concert Hall, Poole, the Royal Albert Hall, London, the Symphony Hall and Town Hall, Birmingham, and the Millennium Dome, London.
Alongside his full-time work at Poole Grammar School, David maintained an active interest in composition. On Christmas Day 2014, his arrangement of I saw three ships was performed by Portsmouth Cathedral Choir on BBC Radio 4; it was subsequently recorded on the CD "Verbum Caro Factum Est." In 2017, David was commissioned to write Hodie, Christus natus est for the Christmas Festival of Carols at Derby Cathedral.
His most recent orchestral piece is One Giant Leap…, a large-scale piece written to commemorate the 50th anniversary of the first moon landing by Apollo XI in July 1969. The music was commissioned by the Music Education Agency "SoundStorm" and first performed in a Festival at Upton House, Poole in July 2019.
Biographical Details
Works by David Beeby
Festival performances of works by David Beeby
Call for Scores submissionLondon premiere
LFCCM 2023