"The Clouded Heaven":
Choral Music by Judith Bingham
5.45pm, Friday 13 May 2022
St Pancras Parish Church, NW1 2BA
Performers
University College London Chamber Choir
Luca Pellegrino Organ
Charles Peebles Direction
Programme
Call for Scores submissionWorld premiereLondon premiere
A beautiful programme of choral works by Judith Bingham to celebrate her 70th birthday in 2022, alongside new music by Grace-Evangeline Mason, Michael Cryne, and Hugh Wood.
University College London Chamber Choir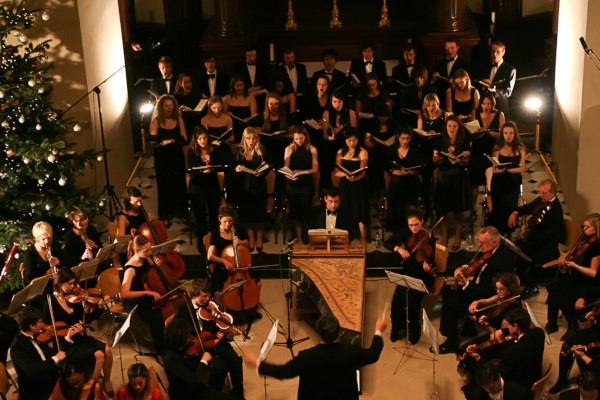 The University College London Chamber Choir is part of UCLU Music Society, the student music making body of University College London. The society also includes a large chorus, a symphony orchestra and University College Opera, Britain's most high profile student opera company, which celebrated its 60th Anniversary with a highly acclaimed production of Weber's Die Drei Pintos, followed by the first staging since the eighteenth century of Rameau's Acante et Cephise.
The Chamber Choir consists of some of the most experienced ensemble singers in the student community and sings a repertoire ranging from programmes of Vivaldi, Pergolesi, and Charpentier to folk music and contemporary repertoire. Notable recent performances include Mozart's Requiem with the London Mozart Players, performances of Handel's Messiah in aid of University College Opera, featured performances in the ITV series William and Mary, and a widely admired production of Rousseau's Le Devin du village as part of the international Rousseau conference held at UCL in 2018.
Charles Peebles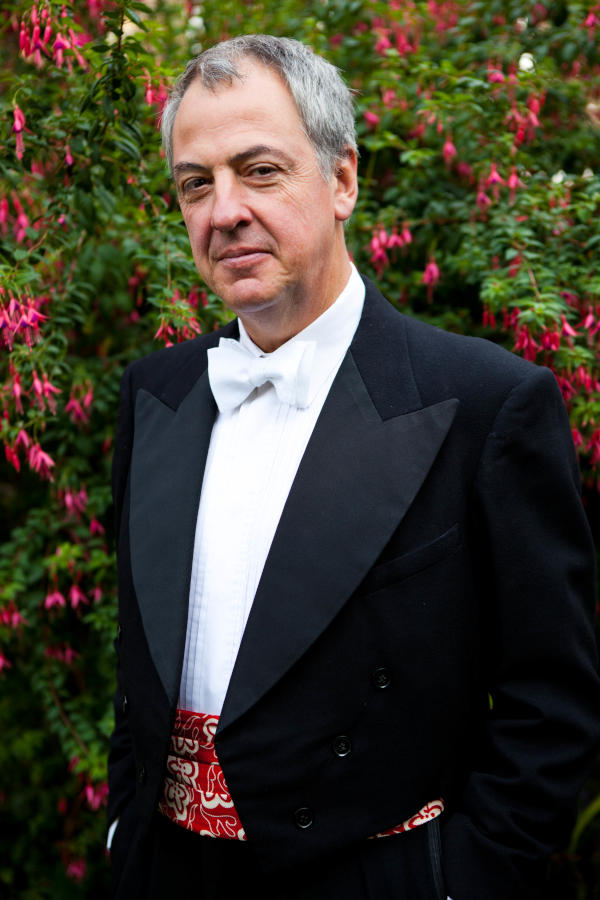 Charles Peebles studied at Cambridge University, the Guildhall and as a Conducting Fellow at Tanglewood. He has conducted, amongst others, the City of London Sinfonia, City of Birmingham Symphony, BBC Singers, Bournemouth Sinfonietta, English Chamber Orchestra, London Mozart Players, Scottish Chamber Orchestra, Nash Ensemble, Northern Sinfonia, Royal Philharmonic and BBC Symphony Orchestras. In 1992 he won the first Cadaques International Conducting Competition in Spain and has since conducted virtually every major Spanish orchestra including Orquesta Nacional de Espana. He has conducted extensively throughout Europe including engagements with the Vienna Chamber Orchestra in Vienna, Bruckner's 9th Symphony with the Latvian National Symphony in Riga, concerts in Turkey, including with the Presidential Symphony and concerts with the National Symphony of Mexico. He has recorded for Hyperion and Largo records.
In the field of opera he conducted many productions of a wide repertoire for English Touring Opera, Holland Park Opera and Broomhill, Mozart's Cosi fan tutte for the Glyndebourne Tour, and a critically acclaimed series of Rossini opera productions for Garsington Opera. Charles conducted Mozart's Don Giovanni for the Bavarian State Opera in Munich in 2001 and 2002. He made his Far East debut in a televised concert with the distinguished tenor Jose Cura. Recent opera has included Carmen and Hansel and Gretel for the St Magnus Festival. Since 2001 Charles has been Music Director of University College Opera where he has conducted operas by Berlioz, Mendelssohn, Schubert, Schumann, Weber, Donizetti, Verdi, Rimsky-Korsakov and Offenbach as well as the British premieres of Hahn's Ciboulette, Dvorak's Vanda, Lalo's Fiesque, Bloch's Macbeth, and the first staging since the eighteenth century of Rameau's Acante et Cephise. Charles was created an Honorary Fellow of UCL in 2012.
Judith Bingham
Born in Nottingham in 1952, Judith Bingham studied composition and singing at the Royal Academy of Music in London. Her composition studies with Alan Bush and Eric Fenby were later supplemented by lessons from Hans Keller. She was awarded the Principal's prize in 1971 and, six years later, the BBC Young Composer award. Other composition prizes include the Barlow Prize for a cappella music (2004) and three British Composer Awards (two in 2004, one in 2006). She was made a Fellow of the Royal School of Church Music in 2007.
Her first commissions, in the 1970s, were from The Finchley Children's Music Group, The King's Singers, and Peter Pears, but she also wrote 4 pieces for the newly formed Songmaker's Almanac, and a string of chamber works for, amongst others, the New London Consort; she was one of the first composers to write contemporary music for medieval instruments. In 1983, she joined The BBC Singers as a full time member of the chorus and toured extensively with them, singing many solo parts. She left the group at the end of 1995 to concentrate on her activities as a composer, though she continued to sing professionally for some years.
Judith has enjoyed a long association with The BBC Singers, both as a singer and as a formal Composer in Association. On first joining the group she wrote a series of choral works, many of them based on texts compiled from disparate sources as an integral part of the compositional process. Several of these were for The BBC Singers, but there were also pieces for other professional, amateur and collegiate choirs, including Salt in the Blood, written for the BBC Symphony Chorus to perform at the 1995 Proms, a Magnificat and Nunc Dimittis for King's College, Cambridge, and diverse anthems and church works for St John's College, Cambridge, the cathedrals of Winchester and Lichfield, and Westminster Abbey.
Judith has been involved in many education projects, with the LSO, the BBC Philharmonic, and the BBC Young Composer of the Year. Recent premieres include Les Saintes Maries de la Mer, a new piece for girl's voices commissioned by the City of London Festival and first performed by the combined girls' choirs of Southwark and Guildford Cathedral, in Southwark Cathedral, London.
Michael Cryne
Michael Cryne is a British composer based in London and Copenhagen. He completed doctoral study in composition under the supervision of Mark Bowden and Helen Grime at Royal Holloway, University of London. His work includes acoustic and electro-acoustic compositions. He is a graduate of both London Symphony Orchestra Panufnik (2014/5) and London Philharmonic Orchestra Leverhulme (2015/16) young composer schemes, and was selected for the 2017/8 PRS Accelerate scheme, writing As Kingfishers Catch Fire for the Berkeley ensemble. He was the winner of the Royal Scottish National Orchestra's 2017/18 Composers Hub scheme, and the orchestra gave the premier of Open the Eastern Windows in November 2018.
Other recent works include Frost Flower for the Laefer Quartet, Celia's Toyshop for the Riot Ensemble, In Cloud Light for Psappha Ensemble, Slipstream for Ruthless Jabiru (as part of Sound and Music's portfolio scheme), Prism for the Molinari String Quartet, and Tendrils for the Kaleidoscope saxophone quartet. His work has also been performed and recorded by cellist Laura Moody, saxophonist Ian Dingle, and pianist Zubin Kanga.
He spent a substantial portion of his early career working in the theatre, writing music for more than two dozen plays and working as a musical director and supervisor.
Grace-Evangeline Mason
Grace-Evangeline Mason is a composer of orchestral, chamber, choral, electronic and operatic music based in the UK. Described as having a "keen ear for musical texture - from dreamy hazes of electronic sound to sumptuous choral writing" (BBC), Mason creates ethereal sound-worlds often inspired by art, poetry and literature to take a listener on a narrative journey. Her music has been performed as part of the BBC Proms, broadcast on BBC Radio 3 and BBC Radio 4, and at venues both across the UK and internationally.
She has worked with ensembles and artists including members of the BBC Symphony Orchestra, BBC Philharmonic Orchestra, London Symphony Orchestra, Manchester Camerata, BBC singers, Trio Atem, Royal Northern Sinfonia, London Early Opera, Aurora Orchestra and the Royal Liverpool Philharmonic Orchestra's new music group, Ensemble 10:10, in venues across the UK and internationally. Her music has been performed at festivals including the New Music North West Festival, the Open Circuit Festival, Cheltenham Music Festival, Southbank SoundState Festival, Norfolk Chamber Music Festival, Connecticut, and the BBC Proms.
Mason is the recipient of awards including the BBC Proms Inspire Young Composer of the Year (2013), the Rosamond Prize (2016), the Royal Liverpool Philharmonic Orchestra's Christopher Brooks Prize (2017) and the Royal Philharmonic Society Composition Prize (2018).
She studied Composition at the Royal Northern College of Music, Manchester, before undertaking postgraduate study at the University of Oxford and the Royal Academy of Music, London.
Hugh Wood
British composer Hugh Wood was born at Parbold, Lancashire, in 1932. His mother had been Frank Merrick's first piano pupil in Manchester: both his father and his elder brother were actively fond of music. He thus had a musical upbringing, but it was only after graduating from Oxford that he decided to pursue composition, moving to London in 1954 to study with William Lloyd Webber, Anthony Milner, Iain Hamilton, and Mátyás Seiber.
Wood taught music at Morley College (1958-67), the Royal Academy of Music (1962-65), the universities of Glasgow (1966-70), Leeds (1975-6), Liverpool (1971-5) and finally Cambridge where he was appointed University Lecturer and became a Fellow and Director of Studies in Music at Churchill College in 1977. He retired from these posts in 1999.
Sometimes violently expressionistic, sometimes poignantly lyrical, Wood's music is powerfully communicative and intensely felt, though even when creating lighter moods his writing is equally eloquent. His large scale orchestral works are amongst his most striking.
Wood's orchestral output began with Scenes from Comus which marked his first appearance at the Proms in 1965. Concertos for cello (1969), for violin (1972), and for piano (1991) followed: the first and last of these were Prom premieres, commissioned by the BBC. A second violin concerto was first performed in London in March 2012. The Chamber Concerto, written for the London Sinfonietta, was premiered in 1971. The Symphony, which took eight years to write, also appeared first at a Prom concert in 1982. A set of Orchestral Variations for the BBCSO was written for their tour of Japan, but was first heard here at the Last Night of the Proms in 1998. The Serenade and Elegy for string orchestra and string quartet, in memory of Wood's daughter, was first heard at Cheltenham in 1999.
Wood's earliest compositions were in the genre of chamber music. His first work, the Variations for Viola and Piano, was first heard in a London SPNM concert in July 1959 then repeated in January 1960. His Trio for flute, viola and piano was commissioned by the John Lewis Partnership and performed in December 1961. Wood's first commission from the BBC - one of many - was his first String Quartet, premiered at Cheltenham on 5 July 1962. The Second and Fourth Quartets were commissioned by the BBC for performance in 1970 and 1993 and the third was premiered at the Bath Festival in 1978. The Fifth Quartet was first heard at Sheffield in October 2001. He composed a number of Trios, for various forces: a Piano Trio in 1984: a Horn Trio (Koussevitzky Award) in 1989 and a Clarinet Trio in 1997. There is also a Quintet (Op. 9) for clarinet, horn and piano trio (1967), a Paraphrase on Bird of Paradise for Clarinet and piano (1985), Poem for violin and piano which was premiered in 1994, when Wood was featured composer in the PLG Young Artists series, and a Clarinet Quintet (2007).
Wood's choral music includes Three Choruses for the John Alldis Choir (1966), The Kingdom of God for St Paul's Cathedral Choir, and a work for The BBC Singers, From the Pisan Cantos, premiered at Cheltenham in July 2012. Accompanied choral works included the Cantata (Op. 30) and Tenebrae, a setting of poems by Geoffrey Hill. His songs include Song Cycle to Poems by Pablo Neruda (1974) which sets chamber-orchestral forces against a solo voice, and Beginnings, a re-working of three early songs for mezzo-soprano and string orchestra which was first performed at Presteigne Festival in 2010.
There are many songs of which settings of Laurie Lee, Robert Graves, Ted Hughes, Edwin Muir, Neruda, T.S. Eliot, D.H. Lawrence, Erich Fried and Christopher Logue are only a small part: these are the perhaps the most neglected part of his output. Nevertheless, Wild Cyclamen (Op. 49), commissioned by the BBC and the Royal Philharmonic Society for Andrew Kennedy, was performed by him and Simon Lepper at Bridgewater Hall, Manchester, and given a British Composers Award in 2006.
Many of Hugh Wood's works have been commercially recorded. They include Scenes from Comus and the Symphony (both NMC); all three concertos, four of the string quartets, The Kingdom of God, the Horn Trio (Erato), and a re-issue of the 1st and 2nd quartets with two song collections The Rider Victory and The Horses (Lyrita). A CD of most of Wood's chamber music was released on the Toccata Classics label in 2009.