"The Rose that Bare Jesu"
1.15pm, Friday 21 May 2021
St Pancras Parish Church, NW1 2BA
The Byron Consort of Harrow School performs a programme of Marian-themed repertoire, with music by Philip Moore, Jonathan Lane, Cecilia McDowall, Sean Mcwilliam, Thomas Hyde, Peter Maxwell Davies, Matthew Martin, Grayston Ives, Gabriel Jackson, Philip Stopford, and James MacMillan
Performers
The Byron Consort of Harrow School
Philip Evans Director
David Woodcock Organ
Programme
The Byron Consort of Harrow School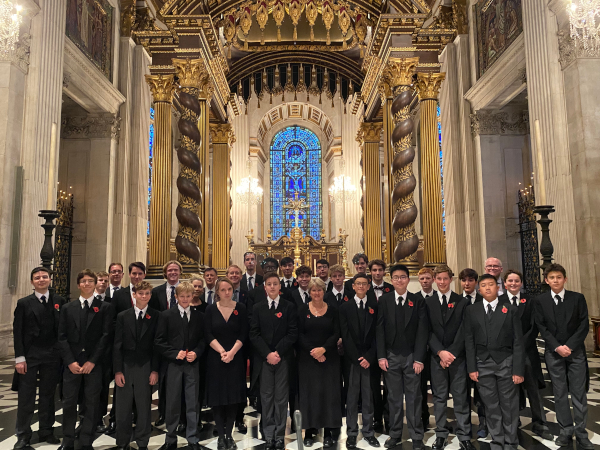 Harrow School is one of the oldest and most famous schools in England, educating over 800 boys, all of whom are full boarders. Its many famous alumni include Winston Churchill.
The Byron Consort is Harrow's elite vocal ensemble and was founded in 2001 by Philip Evans, who continues to direct the choir. It consists of around twenty Harrow boys and four or five adults. The choir sings a mixture of unaccompanied sacred and secular music, most of which comes from the Renaissance, Romantic and Modern periods. Many of the boys are ex-choristers from leading cathedral and collegiate choirs; there have recently been representatives from the choirs of Westminster Abbey, King's and St John's Colleges Cambridge, Canterbury, Derby, Westminster, and Winchester Cathedrals, St. George's Chapel Windsor and Christ Church Cathedral, Oxford.
This academic year marks the ensemble's 20th anniversary. Over that period, one hundred and forty-two Harrow boys and nine others have sung regularly with the choir. The choir has expanded in size over the years and now more usually consists of two sopranos and up to ten trebles on the top line, with one adult and four or five boys on each of the lower parts. Many (but by no means all) of the boy members have been Music Award holders at Harrow. The choir has benefited over the years from having ex-chorister members from Christ Church and New College, Oxford; King's and St John's Colleges, Cambridge; St George's Chapel, Windsor; the Vienna Boys' Choir; Westminster Abbey; Winchester College; and Canterbury, Chelmsford, Chichester, Derby, Ely, Rochester, Westminster, and Winchester Cathedrals.
The Byron Consort has continued to focus extensively on music for the Catholic liturgy, but also now regularly sings for Anglican choral evensongs, and for both Catholic and Anglican services in Harrow School Chapel. It has often sung for Catholic services in Westminster Cathedral and at many other London Catholic churches including St James Spanish Place, Our Most Holy Redeemer Chelsea, Corpus Christi Maiden Lane, Our Lady St John's Wood and St Mary of the Angels, Bayswater. The Byron Consort has sung Choral Evensong many times at St Paul's Cathedral, as well as at Canterbury, Chichester, Salisbury and Winchester Cathedrals, Westminster Abbey, Christ Church Cathedral Oxford, St George's Chapel Windsor and St John's College Cambridge. The choir still sings secular repertoire from time to time, although less frequently than originally.
The core of the choir's repertoire remains unaccompanied music, but it also now branches out into accompanied pieces when appropriate to do so. The majority of pieces performed continue to be drawn from the Renaissance and modern periods, with a reasonable amount of 19th century Romantic music. These are the periods which lend themselves most naturally to a choir like The Byron Consort, but music from the intervening periods is also sung from time to time.
Over the years, The Byron Consort has been fortunate to take part in several special occasions. It performed at a large open-air concert in Southend alongside the London Philharmonic Orchestra. It sang for Pope St John Paul II at a General Audience in Rome in 2004. It sang for the wedding of Tamara Beckwith, which was held in the Church of Il Redentore on the island of La Giudecca in Venice. It performed for former Prime Minister David Cameron and the late Duke of Marlborough at a gala event held at Blenheim Palace. It sang for a ceremony to mark the 10th Anniversary of the September 11 attacks organised by the United States Embassy in London and held in Grosvenor Square.
The choir has become known for its regular tours. The very first was a long weekend to Sherborne and Salisbury in February 2002; the most recent was to Madrid in February. The choir has now completed 20 overseas tours to twelve different countries and hopes to tour again in February 2023, this time to Seville. The choir has been privileged to sing in many great overseas venues including St Peter's Basilica in Rome, St Mark's Basilica in Venice, the Duomo in Florence, Salzburg Cathedral, the Basilica of the National Shrine in Washington DC, Trinity Church Wall Street and St John the Divine Cathedral in New York, St Basil's Cathedral in Moscow, St Isaac's Cathedral in St Petersburg, St George's Cathedral in Cape Town, Toledo Cathedral and the Basilica of El Escorial outside Madrid.