"The Rose that Bare Jesu"
1.15pm, Friday 21 May 2021
St Pancras Parish Church, NW1 2BA
The Byron Consort of Harrow School performs a programme of Marian-themed repertoire, with music by Philip Moore, Jonathan Lane, Cecilia McDowall, Sean Mcwilliam, Thomas Hyde, Peter Maxwell Davies, Matthew Martin, Grayston Ives, Gabriel Jackson, Philip Stopford, and James MacMillan
Performers
The Byron Consort of Harrow School
Philip Evans Director
David Woodcock Organ
Programme
The Byron Consort of Harrow School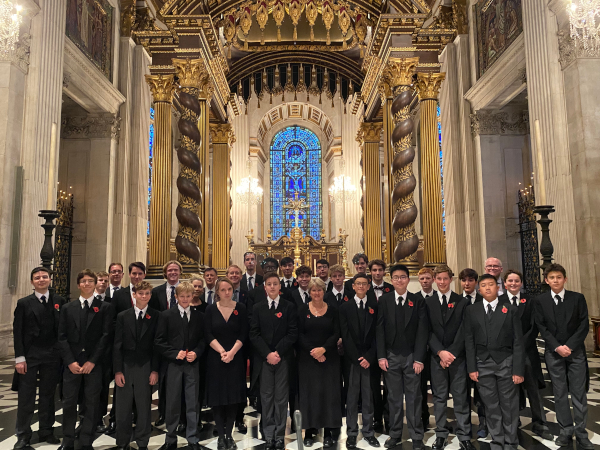 Harrow School is one of the oldest and most famous schools in England, educating over 800 boys, all of whom are full boarders. It many famous alumni, including Winston Churchill.
The Byron Consort is Harrow's elite vocal ensemble and was founded in 2001 by Philip Evans, who continues to direct the choir. It consists of around twenty Harrow boys and four or five adults. The choir sings a mixture of unaccompanied sacred and secular music, most of which comes from the Renaissance, Romantic and Modern periods. Many of the boys are ex-choristers from leading cathedral and collegiate choirs – there have recently been representatives from the choirs of Westminster Abbey, King's and St John's Colleges Cambridge, Canterbury, Derby, Westminster and Winchester Cathedrals, St. George's Chapel Windsor and Christ Church Cathedral, Oxford – many of the boys are Music Award Holders at Harrow School.
The choir has sung regularly at services and concerts at Harrow and at St Paul's Cathedral, Westminster Abbey, Westminster, Winchester, Salisbury, Canterbury and Chichester Cathedrals, St George's Chapel Windsor, various college Chapels in Oxford and Cambridge and many other London churches. Some years ago, the choir sang for the former British Prime Minister David Cameron, the late Duke of Marlborough and guests at a Christmas dinner at Blenheim Palace.
The choir has now been on eighteen overseas trips: to Malta and Gozo, Rome (three times), Venice (twice), Florence, Palermo in Sicily, Vienna and Salzburg, Stockholm, Washington and New York, Moscow and St Petersburg (twice), Cape Town and Nairobi, Toronto and Chicago, and Norway. Notable venues include St Peter's Basilica in Rome, St Mark's Basilica in Venice, the Duomo in Florence, St Basil's Cathedral in Moscow, Trinity Wall Street and St John the Divine Cathedral in New York City, St Paul's Basilica and St James's Cathedral in Toronto, the Rockefeller Chapel of the University of Chicago and the Roman Catholic church of St John Cantius in Chicago, and the Duomo and Sant'Ambrogio in Milan.
In December 2015 the choir travelled to Singapore, Hong Kong and Shanghai, during which it gave concerts to over 1000 people on two occasions and sang at many notable venues including Raffles Hotel in Singapore. In 2016, the choir commissioned new settings of the texts O salutaris hostia and Tantum ergo from the leading British composer Gabriel Jackson and gave the world premiere performances of them in Harrow School Chapel on Palm Sunday in the presence of the composer. In April 2017, there was a series of performances in South Africa and Kenya, including singing in St George's Cathedral, Cape Town, and at the residence of the British High Commissioner in Nairobi. In December 2017, the choir travelled to Norway, during which performances were given in Bergen, Fitjar, Tromsø, Lillehammer and Oslo.
The choir made its third visit to Moscow in February 2019, during which it performed at Christ our Saviour Cathedral, the Donskoy Cathedral, St Basil's Cathedral, St Andrew's Anglican Church, the Immaculate Conception Catholic Cathedral, St Peter and St Paul Lutheran Cathedral, and the Kharitonenko Mansion, Residence of the British Ambassador to the Russian Federation. The choir's most recent tour was to Madrid in February 2020, just weeks before the coronavirus pandemic struck Europe. During this trip the choir was fortunate to be able to perform in the El Escorial Basilica and in Toledo Cathedral, as well as in a number of prominent venues in Madrid itself.