Meet the Composer: Janet Wheeler
Composers from across the UK came together in late 2022 and early 2023 to collaborate on new music dedicated to LFCCM founder Christopher Batchelor in recognition of two decades of his championing the cause of contemporary sacred music. In this series, we talk to a number of the composers involved in the project. Today, we're talking with composer and educator Janet Wheeler.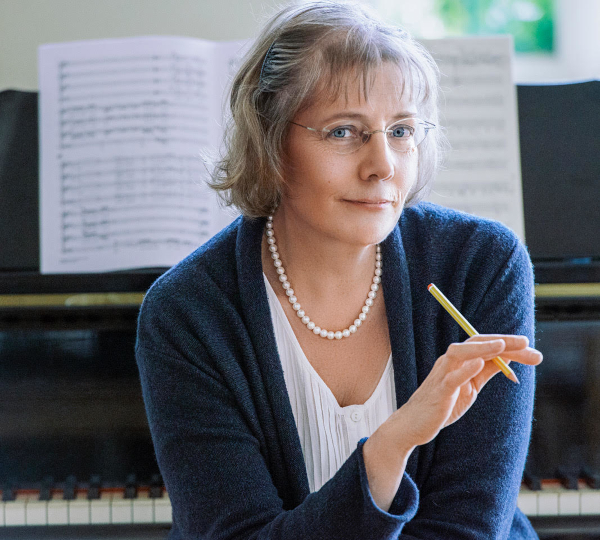 How did you first become interested in composition?
At Junior Guildhall (many moons ago!) I took every possible opportunity to compose and sometimes my music was performed. At school I wrote incidental music and songs for Under Milk Wood. It was definitely hearing it brought to life that got me hooked.
How important is sacred music overall in your compositional output? Why?
Sacred music has been a strong element in my career, partly because church, chapel and cathedral choirs are always looking for repertoire! My involvement in choirs - both as a singer and conductor - has inevitably brought many opportunities for sacred composition - responses, anthems, canticles etc. I've won a couple of competitions for sacred pieces and have received various sacred commissions. Back in 2012 I wrote a larger sacred work for choir and orchestra - Magnificat cum Angelis. Then of course Christmas is such a great time for choirs, so that has often been a rich seam of inspiration.
The LFCCM was founded in 2002. Tell us how you first became aware of the Festival, and how you first came to be involved.
When I came across the LFCCM Call for Works some years back that was a welcome invitation to get involved, and I'm delighted to have contributed to the repertoire of the Festival a number of times since then.
If you could change something about the Festival, what would it be?
I love the Festival's ambition and scope. If it were possible to increase the public awareness and support that would be great.
You've donated your time and energy to a celebration concert that opens 2023's LFCCM. Tell us about your contribution, and why you chose to take part.
I wanted to contribute to the celebration concert to add my thanks to Christopher for his tireless work and leadership of LFCCM over so many years. I chose to join in with the composition of the collaborative Mass - partly because I have not as yet set any of the Mass and partly because it sounded such a mad scheme! Two of my favourite choral works are Frank Martin's Mass for Double Choir and Vaughan William's Mass in G Minor, and I feel the text is so full of compositional potential. When I was allocated the last section of the Gloria I was delighted.
What other events and projects do you have coming up next?
I have two upcoming premieres of commissions:
June 15th in Lincoln's Inn Chapel - an anthem for Lincoln's Inn Chapel Choir to be sung together with Hackney Choral. The brief was for a setting of John Donne and I chose part of his prayer and sermon written in 1623 for the dedication of the chapel. It's called Be This Thine Ark and it likens the chapel (and any sacred building) to an ark sailing over life's troubles.
June 21st in Ely Cathedral and on Radio 3 Choral Evensong - my new Ely Service commissioned for the 1350 anniversary of St Etheldreda founding a double monastery on the site of Ely Cathedral.
I'm also writing a piece for Cadenza Chamber Choir to sing at the Edinburgh Fringe Festival.
Any interesting facts people ought to know about you? My interest in the environment spills over into somewhat laissez-faire wild gardening, complete with birds and frogs.
David's setting of the "Qui tollis", part of a collaborative mass setting created in conjunction with nine other composers, receives its premiere performance at St Pancras Parish Church on Friday 12 May 2023.