"Praise Him with Trumpets":
Music for Trumpets and Voices:
Il Suono and Simon Desbruslais
7.30pm, Saturday 11 May 2019
Pre-concert talk by Judith Weir and Ewan Campbell at 7pm
Hampstead Parish Church, NW3 6UU
Performers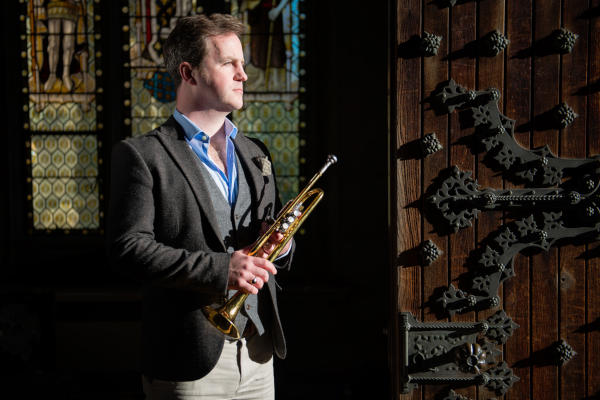 Il Suono
Christian Goursaud Artistic Director
Simon Desbruslais Trumpets
Ellie Lovegrove Trumpets
Peter Foggitt Organ and Direction
Programme
This year's Festival opens in spectacular fashion with a celebration of contemporary music for trumpets and voices, inspired by Judith Weir's 2015 anthem Praise Him With Trumpets which was commissioned to celebrate the 500th anniversary of the founding of Hampton Court Palace.
Wandering Lighthouses by Ewan Campbell was commissioned for this performance with generous support from The RVW Trust. Ewan Campbell talks about his commission and his background in composition in our Meet the Composer series.
Il Suono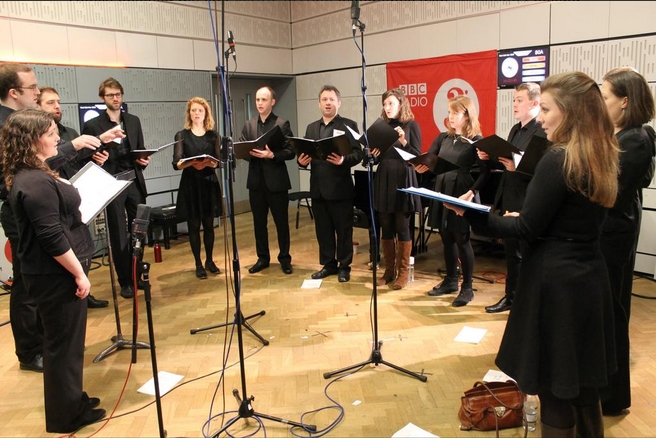 Vocal ensemble Il Suono has a strong commitment to performing new music, with recent performances of contemporary works by John Joubert on BBC Radio 3, and Joubert and Arvo Pärt in the Barnes Music Festival. The group has toured France, Spain, and Russia, performing programmes that reflect a parallel interest in contemporary repertoire and early music. Recent concert programmes have juxtaposed commissions by Peter Foggitt, and vocal works by Diana Burrell and Maurice Ravel, alongside contrasting renaissance music by Gregorio Allegri and Carlo Gesualdo. Recent highlights include a collaboration with the Chapel Choir of Merton College, Oxford in performances of Thomas Tallis's forty­-part motet Spem in alium conducted by Peter Phillips, and performances including Venetian repertoire by Giovanni Gabrieli in the London A Cappella Festival.
Simon Desbruslais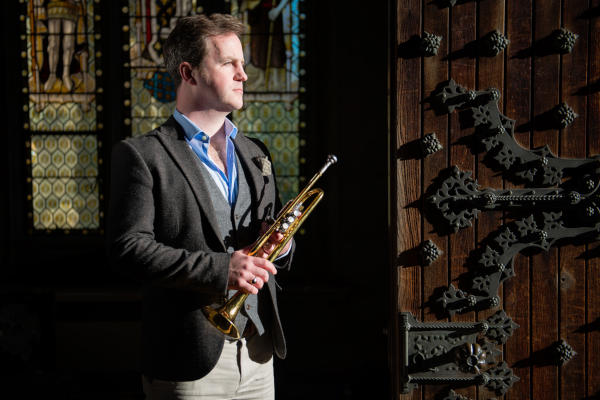 The performances of British trumpet soloist Simon Desbruslais have been critically acclaimed as "steel-lipped", "musically compelling" and possessing "supreme confidence and flair". Equally active in baroque and contemporary music, Simon has recorded extensively for Signum Classics including Psalm: Contemporary British Trumpet Concertos, an album of trumpet works written for him by John McCabe, Robert Saxton and Deborah Pritchard, and most recently The Art of Dancing which includes new double concertos for trumpet, piano and string orchestra by Toby Young, Geoffrey Gordon and Nimrod Borenstein. Radio and television broadcasts form an integral output to Simon's work and over the last decade he has performed live on BBC 1 Television, BBC Radio 3 and 4, and German Radio SWR2 to millions of viewers and listeners worldwide.
A crucial element of Simon's career involves working with composers to create and champion new works involving the trumpet. This has ranged from chamber works, such as trumpet and piano, to full-scale concertos and more unusual combinations such as trumpet with choir, or with string quartet. Simon has a particular commitment to British music; composers who have written with his sound and technique in mind include, among others, Edwin Roxburgh, John McCabe, John Traill, Deborah Pritchard, Lola Perrin, Luke Bedford, Toby Young, Tomas Yardley and Tom Armstrong.
Since his breakthrough season in 2012/13, Simon has given concerto performances in China and Brazil, appeared as soloist with Royal Northern Sinfonia, English Symphony Orchestra, BBC National Orchestra of Wales, Orchestra of the Swan, Charivari Agréable, Brook Street Band, Ensemble Diderot and London Concertante, and as a guest chamber musician with the Ligeti Quartet, Austral Harmony, Little Venice Ensemble and Ensemble Perpetuo. He has given solo performances at the Ryedale, Wymondham, Bangor New Music, North York Moors, Deal, and Rheine Vokal festivals, on the beach of Vik in Iceland, and appeared as a concerto soloist on the natural trumpet at the Wigmore Hall. He has also developed lasting overseas collaborations with the Iceland Academy of the Arts, Tianjin Normal University in China and the Janáček Academy of Music in Brno. Simon is fortunate to maintain active duo partnerships with pianist Clare Hammond and organist Stephen Farr, among many other fine musicians.
Simon was educated at King's College London and the Royal College of Music, winning numerous prizes and scholarships. He was then a private student of Eric Aubier in the Conservatoire à Rayonnement Régional de Rueil-Malmaison. Keen to expand on the relationship between performance and musicology, Simon holds a doctorate from Christ Church, Oxford, on the music theory of Paul Hindemith, which was published in book form by Boydell & Brewer in February 2018. He is Lecturer in Music at the University of Hull, where he is also Director of Performance, having previously taught at the Universities of Bristol, Nottingham, King's College London, and Surrey. His research into historical trumpets led to a recording on artefacts held by the Oxford Bate Collection, which included the first recordings of music on the nineteenth-century, long 'Bach' trumpet, among other historical curiosities. Simon acknowledges the generous support of Arts Council England, Ralph Vaughan Williams Trust, Britten Pears Foundation and Help Musicians UK.
Ellie Lovegrove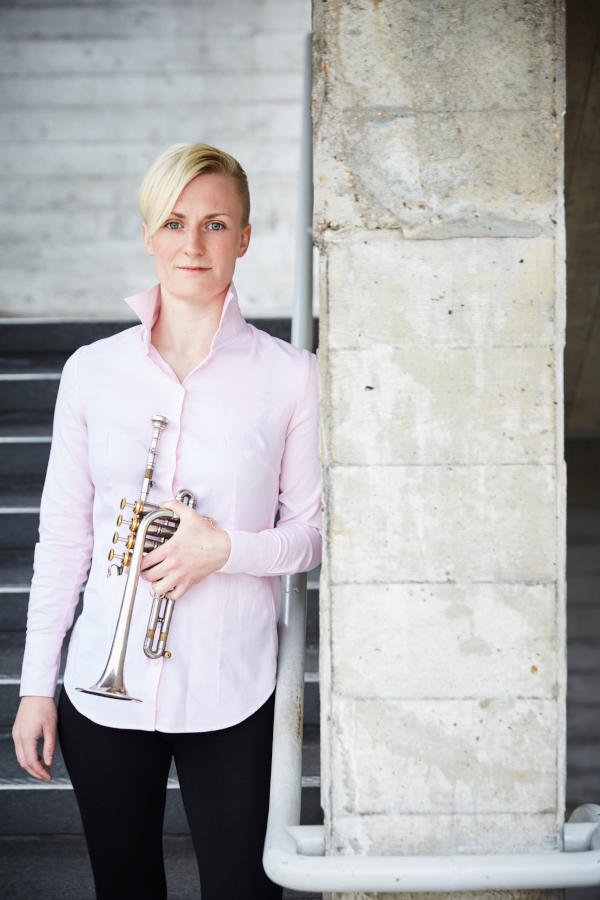 Originally from Ware, Hertfordshire, Ellie Lovegrove grew up in a musical family and started the trumpet aged 7. She later played principal trumpet with the Hertfordshire County Youth Orchestra, and went on to study with Paul Benniston and Micahel Laird at the Royal College of Music.
As a soloist, Ellie has performed Shostakovich Concerto No. 1 at St John's, Smith Square, London, and her trumpet and organ duo with Richard Moore has given recitals at St Paul's Cathedral, Fairfield Halls Croydon and St Martin-in-the-Fields. Together they released their first album, Illuminations, Dances & Poems, on Convivium Records in 2017. Ellie recently visited the Far East, where in addition to giving Masterclasses, she performed a recital in Hong Kong, and World Premieres at Nanyang Academy of Fine Arts, Singapore.
As a freelancer, Ellie performs with a large variety of orchestras, including the BBC Concert Orchestra, BBC Scottish Symphony Orchestra, English National Ballet, and Britten Sinfonia. As a chamber musician, she has performed at The London Handel Festival on period instrument, and regularly performs with brass quintet Chaconne Brass in recitals and recording across the country. Commercially, Ellie reguarly plays for Les Miserables in the West End, London, and has recently played for West End productions of Chicago and Don Quixote. In addition to performing, Ellie teaches at the Junior Guildhall School of Music.
Peter Foggitt
Peter Foggitt is a pianist, organist, composer, and conductor. He made his concerto debut at fourteen, and his BBC Radio 3 debut (Rachmaninov Piano Concerto No. 3) whilst a finalist at Cambridge. He won the MBF Accompanist's Prize at the 2013 Kathleen Ferrier Awards, the Pianists' Prize at the Emmy Destinn Awards and First Prize at the Croydon Concerto Competition, and with his vocal ensemble, Cries of London, the 2011 Royal Over-Seas League Annual Music Competition.
As a solo and ensemble pianist, Foggitt maintains a busy and diverse schedule. He has worked with Trio Ischl, Aurora Orchestra and London Contemporary Orchestra, and has performed as a concerto soloist with orchestras across Britain in repertoire ranging from Handel to Gershwin.
At the organ, Foggitt has appeared as soloist with Covent Garden Chamber Orchestra, and Croydon Symphony Orchestra, as a recitalist, a continuo player, and with choirs including Oxford Voices, Il Suono, The Choir of Hampstead Parish Church, and The Choir of St Bartholomew the Great, and instrumental ensembles including the English Symphony Orchestra. He is in demand as a repetiteur, working particularly in new opera and with Sir John Eliot Gardiner and The Monteverdi Choir.
Commissions for Foggitt's works have come from cathedrals, opera companies, ensembles, and soloists. Large-scale works include Genesis for Sloane Square Choral Society, the first in a projected series of works based on the York Mystery Plays; Alcina for Barefoot Opera, a re-imagination of Handel's original; a number of pieces for The London Festival of Contemporary Church Music; and Preludes and Lude-Fugues for The Tunnell Trust. He is currently working on two operas: Fierabras, based on the chanson de geste; and a two-act commission for Size Zero Opera. He also translates libretti and sacred texts from Latin, German and French; he edited the OAE/Vocal Futures St Matthew Passion libretto.
Foggitt has also performed internationally as a baritone, including various solo engagements under the batons of David Willcocks and James Judd, and as an ensemble singer with Tenebrae, The Choir of King's College, Cambridge, and Renaissance specialist ensemble Il Suono. He has been guest Chorus Master at the Royal Opera, Copenhagen for The Devils of Loudun by Penderecki, and for Polish National Opera; he also assisted Lionel Friend at British Youth Opera for A Night at the Chinese Opera by Judith Weir. He has directed the ensemble Cries of London at venues including the Queen Elizabeth Hall and the Wigmore Hall.
It is in the field of improvisation that Foggitt is best known. Acclaimed at the age of seventeen for his "stunning, fire-breathing virtuosity" in extemporisation, he is equally comfortable in classical and contemporary styles, working with jazz trios and improvising classical fugues. He has a long-standing partnership with percussionist Ric Elsworth, and gives regular improvisation recitals.
Peter read for the BA in Music at King's College, Cambridge, where he was Senior Choral Scholar. After a year as Deputy Director of Music at the Arts Educational School in Tring he undertook postgraduate study in singing, piano, and improvisation at Trinity College of Music with Linda Hirst and Douglas Finch; he completed his MMus at the Guildhall with Martin Roscoe and Eugene Asti. He is grateful for the support of the Watt Trust and the Musicians Benevolent Fund.
Christian Goursaud
Christian Goursaud performs, researches, and writes about late-medieval, early renaissance, and contemporary music. He was educated at King's College London and at Royal Birmingham Conservatoire, where he gained his PhD. He is a Gentleman of HM Chapel Royal, Hampton Court Palace, Artistic Director of the vocal esemble Il Suono, and a Research Fellow at Royal Birmingham Conservatoire.